A Coyote Named Faerytale
Nov 24, 2017
The grasses crinkled as I sat down quietly to wait. The small animal garden at Earthfire institute was sunny but chilly, as a small group of retreat goers waited to be introduced to our animal ambassador for the afternoon- a remarkable coyote named Faerytale. As we waited I could feel the excitement of all the people around me- we were all here to experience and learn from these amazing animals and we couldn't wait to find out what Faerytale had to share with us.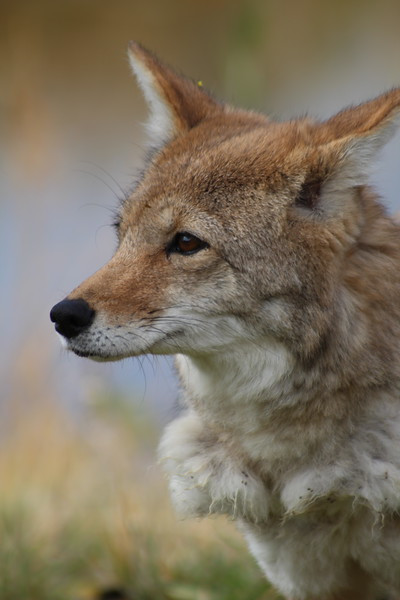 The door opened and in trotted a beautiful tan colored beauty, soft in fur and in energy. Faerytale. We watched her as she moved silently around the garden. Checking out the perimeter first, Faerytale eventually came amidst the humans sitting there, exploring and checking each of us out. Being naturally shy, I felt that this was a great gift that she was giving us, her bravery in reaching out to those she didn't know was a lesson I tucked away to process more later. Faerytale didn't stay long with any one of us, her position ever changing as she continued to move about the garden.
The only exception to this being Susan Eirich and Jean Simpson from Earthfire, who were supervising this encounter. Faerytale stopped at each of them and It was so very clear in watching their interactions, that the trust between the this four-legged and the two-legged persons was deep. The bond seemed almost tangible.
I sunk down further in the grass, the only sound the clicking of the shutter on my camera. I tried to make myself silent so that the spirit of Faerytale could speak. She passed by me and paused. These photos are the result. I feel she gave me a great gift, pausing long enough for me to capture a bit of her essence to share with those who could not be there with me. This is my goal as an artist- to quiet my own energy, so that I can bring the spirit of each animal forth on the canvas for others to see and feel. So those viewing can connect with that animal directly through the art.
Earthfire Institute is a wildlife sanctuary and rehabilitation center in Driggs, Idaho. You may remember that one of my paintings, Spirit Walker, benefits Earthfire and the wonderful work they do there. Last month I was so very excited to travel to Earthfire myself to meet Faerytale and the other animals of Earthfire in person as a part of a four day retreat, A Walk on the Wild Side, lead by Rose De Dan (reikishamanic.com).
During the retreat, we met with animals like Faerytale with purpose and in ceremony. Listening to them and learning from them. Coming together, as co-inhabitants of this amazing planet, to pray for the Earth and, on the human side, to discuss ways that we can make a tangible difference for the future.
Along with the animals, we also met with Founder and Executive Director of Earthfire, Susan Eirich, and with Earthfire's incredible animal handler, Jean Simpson. Their tenacious and wholehearted devotion to the animals and to their mission is inspiring, and what stood out most for me while speaking with and learning from them over the course of the retreat was the depth of the love they have for the animals and the Earth. To bring the vision of Earthfire into physical being was a long and hard battle, but they were, and continue to be, willing to sacrifice many things we take for granted in order to do this work. It's truly a labor of love for them and it shows in every interaction between them and the animals in their care.
The trip to Earthfire Institute was definitely a highlight of my year. To visit a place where each animal is a valued individual and ambassador and where humans and animals can meet together on equal footing to learn from each other was a dream. To meet the people doing the work that I hope to support in a big way with my art was inspiring. If you are concerned about the state of the environment and the animals that share the planet with us and want a tangible way to help, please consider supporting Earthfire.
Here are some ways to help:
Visit their website (earthfireinstitute.org) and join their mailing list. The newsletters from Earthfire are always a welcome treat in my inbox. There are always great stories, beautiful photos, and also tips on how we can make a difference in small ways every da

Donate directly via their website- every dollar counts! I saw first hand that all money raised goes directly to the welfare of the animals- Susan and Jean are able to stretch each dollar as far as it can go.

Follow them on social media (Instagram and Facebook: @earthfireinstitute)

Buy art! 50% of the sale of the original acrylic painting and 20% of each print of Spirit Walker goes to support Earthfire. Christmas is coming and this is a great way to get a loved one a gift with a story, while at the same time supporting a wonderful organization and the animal ambassadors that call it home! Stay tuned for my biggest sale of the year to be announced for Cyber Monday!

Join my mailing list. I will be organizing an intimate salon to facilitate a Conservation Conversation with Susan Eirich in the new year. This event will be in Seattle, WA and will be an amazing opportunity to learn more about how we can help the animals and the earth as we move forward. Space will be limited and my beloved subscribers will get the information first!
The intention of the retreat at Earthfire, as stated on the website, reads, "to break down barriers and build bridges of unity and connection, facilitating healing for all participants, both two and four-legged". This intention was definitely fulfilled in my own experience. My visit to Earthfire reinforced my determination to help tell the stories of the animals in art- to help raise awareness that each animal is an individual and that each animal has its own special personality. Each one brings something unique to the tapestry of life that won't ever be replicated in exactly the same way.
Our animal brothers and sisters are worth valuing and protecting just because they Are. Because they exist on this Earth. We need them and they need us. We can't survive one without the other, we are linked in ways too numerous to fathom.
As always, thank you for coming with me on the journey. What an adventure it is to walk in community with the wild ones of the Earth!