Welcome to Feathers and Keys!
Apr 01, 2019
This April I will be creating 30 illustrations on the theme Feathers and Keys to help my efforts to raise money for the five wildlife organizations I have chosen to support this year and here is the first one!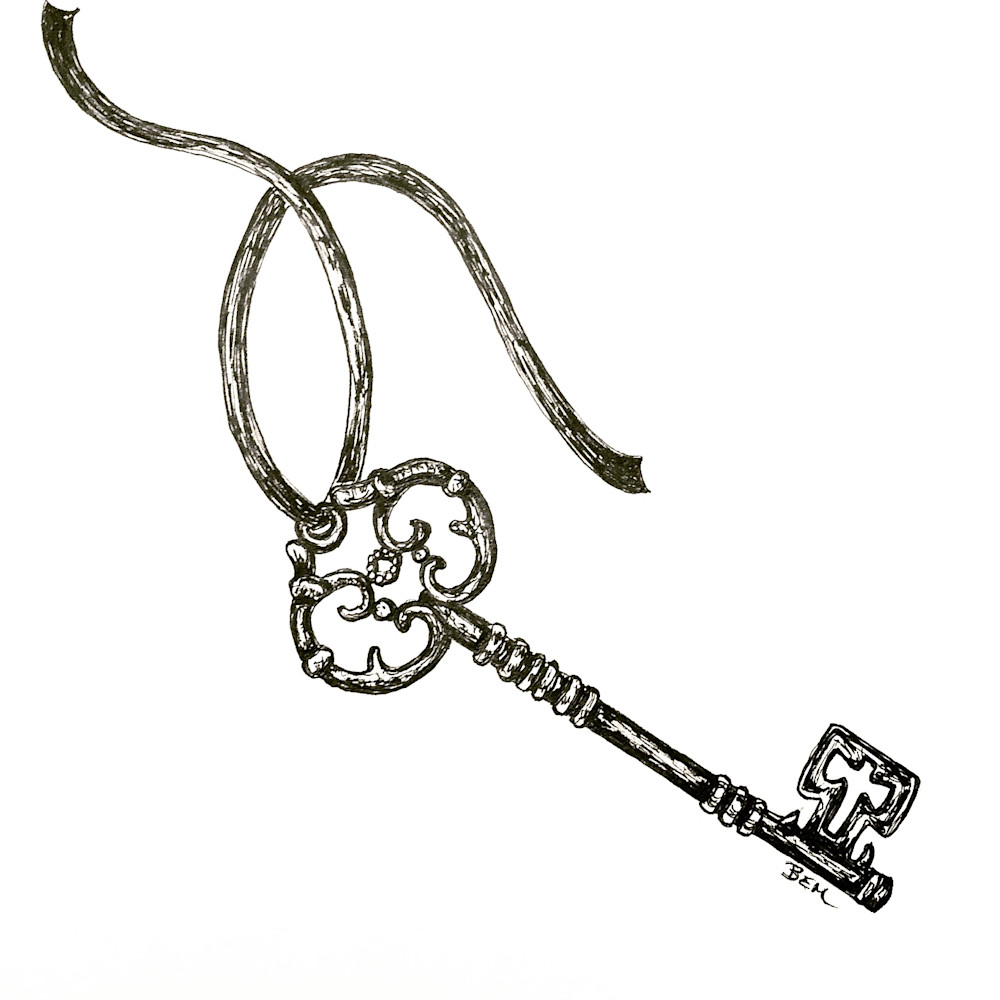 The Key
5x7
Ink on Archival Paper
$88
I know- this one isn't a bird, but I wanted to start with a key and an explanation of why I picked keys to accompany the birds for this year's 30 Birds in 30 Days.
People have asked me, why keys? The short answer is...I don't really know.

I was walking my dogs and thinking about the project when an image of an illustrated bird came to mind in conjunction with the image of a key. I loved it and ran (or flew as the case may be) with it.

Although there wasn't a solid reason behind it at the time the idea came to mind, the pairing makes sense to me. Birds are beautiful and also somewhat mysterious. They can fly- what must that be like? We can only imagine- or in the case of air travel get a half glimpse- as although we are high above the ground, the air isn't supporting us in the intimate way it is with our feathered friends.

As with birds, keys are also beautiful and can be somewhat mysterious- especially in the case of old keys, which are the kind I will be focusing on in this project. The ornate handles are unlike what we use today and coming across one usually involves more questions- where did it come from? What does it unlock? What secrets does it keep? How did it come to be here?

I feel like birds can also be considered secret keepers. Flying or coming to rest high above the earth- they often go unnoticed and yet they see all below them. They notice their surroundings, the coming and going of the seasons. They live so close to us and yet they are often considered so ordinary that they escape our harried glances....and yet, they see us. What have they seen? What do they know?

And so the combination of Birds and Keys. Both a part of ordinary and mundane life, but on closer inspection- beautiful, mysterious, secretive. Both calling to us to look more closely, to recognize the magic and wonder all around us, even within- especially within- what we consider ordinary.

As always, I thank you so much for coming along with me on this journey.

Until tomorrow, my fellow wanderer.

Each of these pieces will be shipped on a backing board within a protective cellophane sleeve . Most pieces will be 5 x 7 and will be priced at $110- larger pieces will be priced accordingly.

As a subscriber, you receive 10% off Feathers and Keys originals as well as free shipping- so sign up and join me! :)