Day Two- Prickle's Back!
Apr 02, 2019
Day Two of Feathers and Keys! Today we have a sweet male bluebird.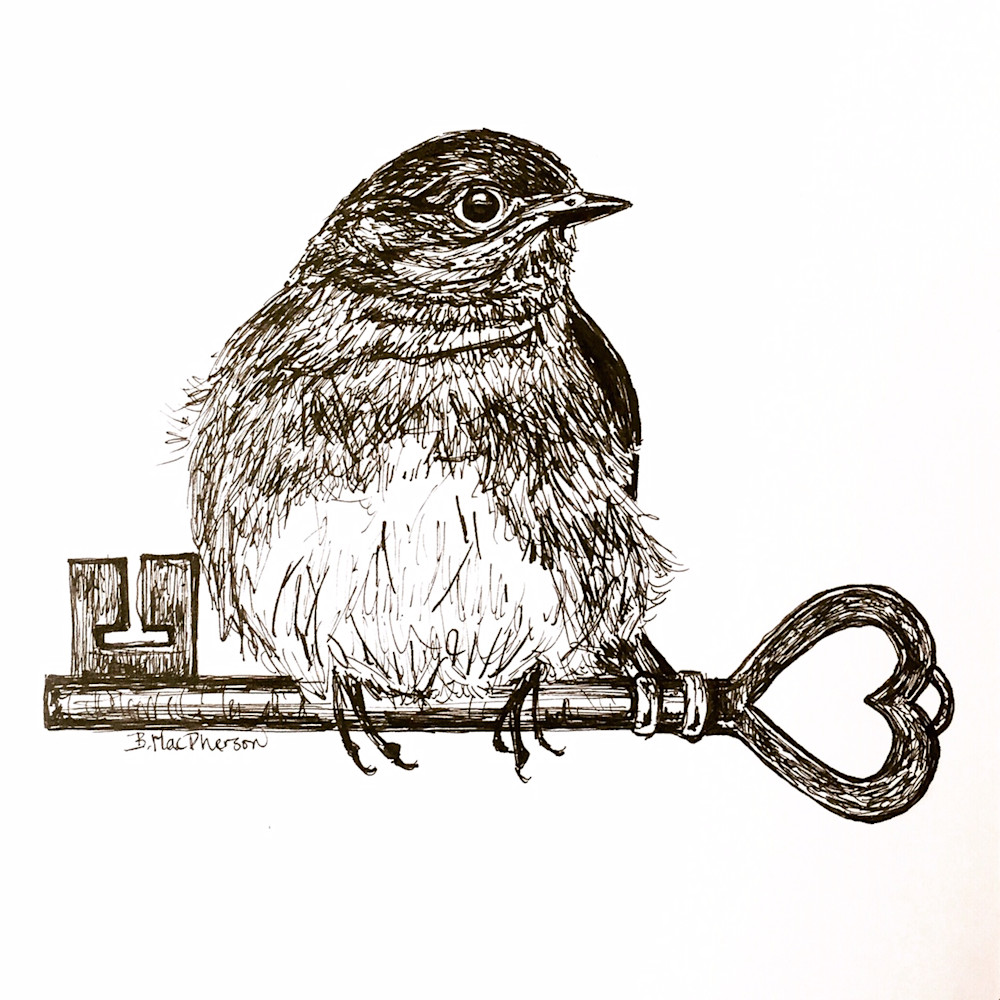 Spring Happiness
5x7
Ink on Archival Paper
$110
I couldn't resist bringing my friend Prickle back to be a part of this challenge, so on some days I will be incorporating a story into the day's illustration. Today is one of those days! I hope you enjoy a new installment of the adventures of Prickle the Shapeshifting Hedgehog to go with today's bluebird illustration:
On a lovely early Spring day- the kind just after the flowers begin to bloom, the air fragrant with new grass, and the trees just tipped with green- our favorite shapeshifting hedgehog Prickle stood gazing out his front door.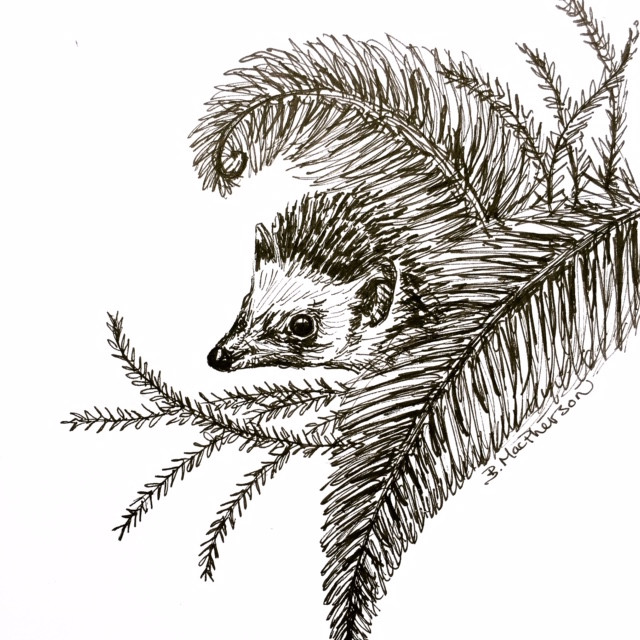 "Oh how I love my home," he thought, for he lived in a marvelous hollow log just the right size for a charming hedgehog like him, "but the air is fresh and I smell the scent of all that's new on the breezes. It's making me itchy for adventure."
He stood awhile longer in the doorway of his log home pondering this thought, as this particular hedgehog is generally a homebody. Oh he likes adventure as much as the next person, but he usually keeps his adventures to an afternoon (or a day if he has a nice lunch packed). The feeling he had today however, was different.
"I've spent the winter safe and cozy in my log- but I feel like there might be something else out there for me," he thought, "things to see and learn. Adventures to have. Adventures that may take me away from my warm house for more than just a day."
Longer than a day. He thought about this. Longer adventures would mean that he would need to find a place to sleep each night- a place that wasn't his log- and his log was his favorite place to be. It was an interesting idea- Safe and Cozy Home versus the idea of a Grand Adventure.
Just then Prickle saw movement and a male bluebird landed on a branch above him.
"Hey there," he called to the bird.
"Hey yourself," replied the bird genially.
"I haven't seen you around here before, are you new to the area?"
"Yes and no," replied the bluebird. "I am not from around here, but I'm not exactly new. I've passed through many times before."
"You're a traveler then?" asked Prickle.
"Yes indeed!" said the bird, "It's spring and that's the perfect time to travel. I go here and there, looking at all there is to see before it's time to make a nest and stay put for awhile."
"I see," Prickle considered this. "I was thinking of traveling a bit myself. Does it make you happy? I've been feeling a little gloomy lately."
"That's quite understandable," said the bird, "the end of winter can be hard. I find the sweet spring air and some new scenery can be the key to happiness this time of year. The flowers are just peeking out, the trees are beginning to wake up from their slumber, and other folks are starting to come out of hiding as well. There's lots of interesting Beings to meet. So for me, yes, it does make me happy."
"Thank you," said Prickle, "that gives me a lot to think about.
"Anytime," said the bluebird. "Well, I must be off. It was nice talking with you."
"You as well," replied Prickle as he waved goodbye to his new friend, "I wish you a wonderful spring adventure!"
Prickle sat pondering this conversation as he watched the form of the bluebird get smaller and smaller into the blue sky. A Grand Adventure...now that's something to think about.
-------------------------------
For an introduction to Prickle, please visit his first story: The Adventures of Prickle and the Fairy
----------------------------
This is one of my big fundraisers for the year to raise money for the five organizations I have chosen to support with my art in 2019 including Gentle Friends Sanctuary, the Gibbon Conservation Center, Project Primate (Chimpanzee Conservation Center), Seward Park Audubon Center, and the Mountain Lion Foundation.
As a subscriber, you receive 10% off Feathers and Keys originals as well as free shipping- so sign up and join me! :)