DayTwenty Four- 30 in 30 Painting Challenge
Mar 22, 2018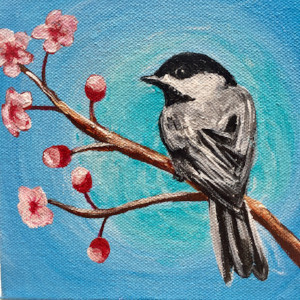 Chickadee
6x6
$200
It would be hard for me to pick a favorite bird, but if I HAD to, I would probably have to say chickadee. These spunky little friends are always such fun to watch playing in the garden through all seasons.
If you are interested in giving this fun chickadee friend a loving home, please contact me. First message received gets dibs!

This is one of 30 paintings I will be painting in February as part of the Thirty in Thirty Challenge. 50% of the sale of each will go to support the wonderful work of the Seward Park Audubon Center in Seattle, WA.