30 Paintings in 30 Days Challenge
May 01, 2018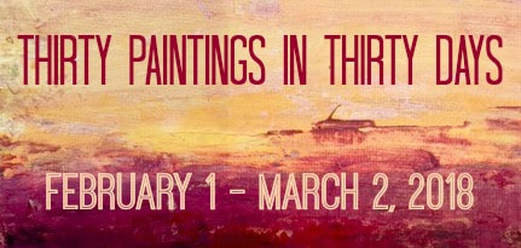 Starting tommorrow, I will be joining hundreds of other artists as we paint every day during the month of February. My theme will be birds and I will be painting thirty 6x6 and 6x12 acrylic on canvas works to benefit the Seward Park Audubon Center in Seattle, WA.
I am super excited to be a part of this challenge- and a challenge it will be! I normally finish three paintings a month (if I'm really being ambitious), so 30 is...ten times that.
To be fair, I usually work much larger, but still!
I am also excited to be using this challenge to support the work of the Seward Park Audubon Center. They really do great work engaging the local community through their presence, education, and programs on the conservation of local birds and wildlife. 50% of the sale of each 30 in 30 Challenge Painting will go directly to the center.
More about the Seward Park Audubon Center:
(Much of the following is their own wording, I have seen their work first hand, but they say it all so much better than I can!)
It is the mission of the Seward Park Audubon Center to help a diverse mix of young people to cultivate wonder and develop an insatiable curiousity in the natural world. They do this through environmental science, outdoor exploration and play- inspiring conservation of natural ecosystems and the building of healthy communities for people, birds, and wildlife.
Each year, Seward Park Audubon Center connects more than 20,000 children and adults from all backgrounds with nature right here in my city of Seattle and while Seward Park Audubon Center is part of the National Audubon Network, they raise all of our their own funds.
Most of this support comes from individuals in our community.
Like me!
With your help.
I am super excited to support their work protecting birds, introducing children and adults to the natural world, and training the next generation of conservation leaders.
Thank you for coming along with me!
Bring on the birds!
(Announcement Photo: Leslie Saeta Fine Art )