30 in 30 - Day 25
Sep 25, 2018

I am a day late...but hopefully not a dollar short. :)

If you have been waiting for me to get back to using some color- TODAY'S THE DAY!

This sweet little avian friend was one I saw outside a stone circle in Ireland. It let me keep stepping closer and closer until I was able to get a really great photo of him or her. I thanked it profusely afterward of course. :)

I am pretty sure it is a European Robin and I know I will be working with the photos I took of it again- such a pretty bird and I love the juniper berries on which it's standing.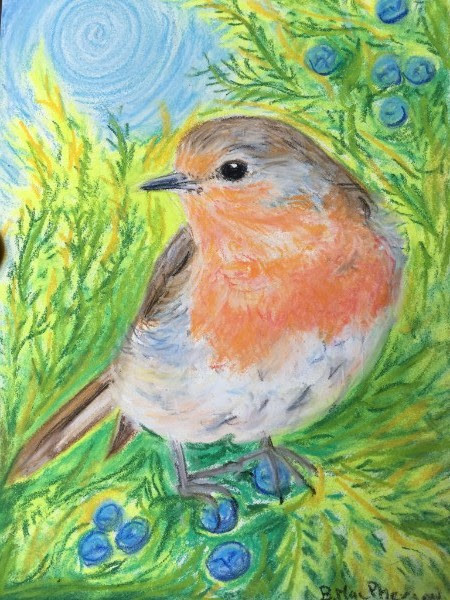 For this piece, I worked with pastels, which I have not used since college. I used to do a lot of pastel work though so it was neat to get back to it. It has been fun during this 30 in 30 to play with such a variety of mediums. I feel like it has renewed by love for art of all kinds!

Messenger
5x7
Pastel on Board
NFS

This piece will have to be framed under glass because of the delicate nature of pastel and I will have to figure out the best way to do that since it's on board and not on paper. If you are interested in adopting this sweet being, I will ask that you please allow 3 weeks for shipping as I will be out of town the first week in October and don't know if I will be able to find the best framing solution by the time I leave!